Grave site of John Patterson Jones
Masonic restoration ceremony, August 12, 1996
Monticello, New York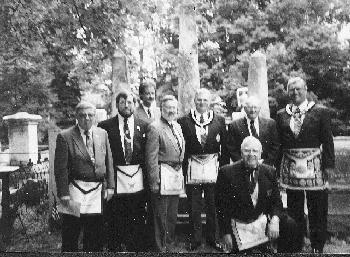 Left to right: Mr. Arnold Levy, DSA, Trustee; Mr. Thomas Rue, Secretary and Lodge Historian; Mr. Anthony Lubniewski, Senior Warden (rear), Hon. Burton Ledina, Sullivan County Court judge; Mr. Norman Moon, Grand Junior Warden, GL-NY; [unidentified man]; Mr. Gary Henningson, Grand Secretary and Past Grand Master, GL-NY; Mr. Jens V. Meyer, District Deputy Grand Master (kneeling).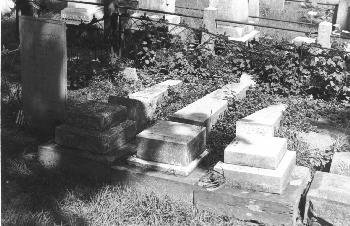 Gravestones of the founding family of Village of Monticello, as they lay broken and prone on the ground. John P. Jones was also an early master of the first Masonic lodge in Sullivan County.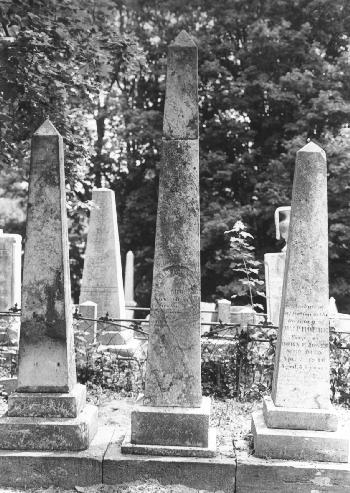 After the initial stage of clean-up, pictured above are the restored memorial stones of John Patterson Jones (center); that of his wife, Phoebe Ecker Jones (left), and another family member.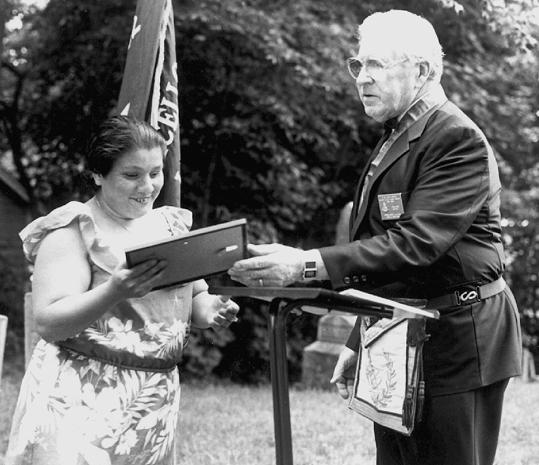 Miss Maria Santiago of Jeffersonville, one of the participants who helped clean up the gravesite along with Lodge members, receives a certificate of appreciation from R.W. Jens V. Meyer.






An audience begins to assemble at the start of the program.



---

A Matter Of Grave Concern.