BUILDING TODAY'S COMMUNITY
By Dr. Robert A. Havlena, D.S.W.

Masonic restoration ceremony, August 12, 1996
Monticello, New York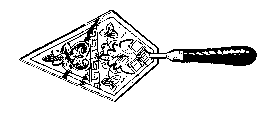 Thank you.

It is both an honor and a pleasure to be here representing Sullivan County Department of Community Services.

I would like to say a few words to acknowledge the work of our clients and to thank the Masons for honoring the efforts of our clients in maintaining this cemetery.

Over the past few months a new activity was established for our Continuing Day Treatment clients. This activity is called the Citizen's Group and its purpose is three fold:
increase understanding of the democratic process;
promote community development;
increase personal responsibility.
The group's activities have included, among others, the:
planting and maintaining a flower bed in front of the Court house,
removing litter from Broadway and St. John Street, and
cleaning and maintaining the Old Presbyterian Cemetery, particularly the grave of John P. Jones.
The work of these volunteers in building today's community is an inspiration to all of us. But just who are these volunteers from Community Services?
They represent a great diversity of people which include members of different cultures, different ethnic groups and different social classes. Some are newcomers to Sullivan County while some were ~bom here as were their parents and grandparents.
As I look at all of us gathered here today, or as I walk down Broadway, or go shopping at the supermarket; I see the same diversity. I see different people with different backgrounds all participating in and contributing to the life of the community -- all participating in community development.
A number of years ago I worked in community development as a Peace Corps Volunteer in Latin America. At that time community development was conceptualized as a planning process carried out by community leaders FOR the people. It was the powerful few making decisions for the many in deciding what the important problems were. But, what we are witnessing today is a different kind of community development. We are building ~today's community through the active participation of all citizens. Today we see a diversity of individuals who participate together in building a better life for all.
In building today's community we meet the community where it is; we help the community determine its own needs; we help the community move at its own pace; we help the community decide on its own solutions. We of the Department of Community Services are proud to be participants in this development process, and thank you for the recognition being bestowed on our members.
Thank you very much!