A few historical items pertaining to the hamlet of
Bridgeville, County of Sullivan, New York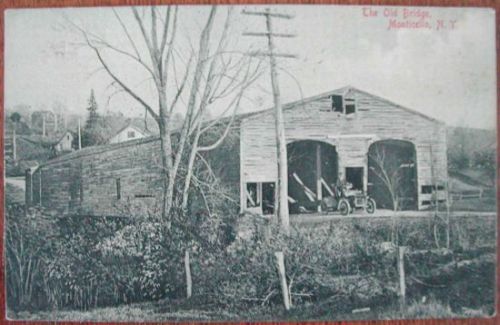 Barnum Lake near Southwoods Road, former site of a sawmill operated by Charles Barnum, photos commissioned by Dr. Bruce Barnum of Houston, Texas, taken March 11, 2006 and April 10, 2006.
Early Freemasonry in Sullivan County, New York, which remembers Samuel Barnum as a founding officer of Sullivan Lodge #272, the first such organization in the Sullivan County (subsequently superceded by the present-day Monticello Lodge #532). One such mention, referring to a spot near Barnum Lake mentioned above, reports: "Bro. Samuel Barnum erected another mill in 1802 or 1803 on the farm now occupied by William Fitzsimmons. Town records show this was the third mill in the town. Bro. Barnum was elected supervisor in 1807 and 1808, was preceded in that office by Samuel F. Jones, the Town's first supervisor and succeeded by Bro. John P. Jones."
Stones in the old Hoyt Cemetery, with close-ups of those belonging to the family of Maj. Samuel Barnum, photos commissioned by Dr. Bruce Barnum of Houston, Texas, taken March 11, 2006; and a second set of similar photos and video clips with some additional stones taken April 29, 2006.
Account of a meeting on the restoration of graves, held June 13, 1996 with attached Court Order issued July 7, 1994 in Supreme Court of the State of New York, In the matter of the application of Edwin Olmstead v. Town of Thompson Town Board for a judgment under Article 78 CPLR mandating proper care of the Hoyt Cemetery, Bridgeville, New York.
Photoset hosted on flickr.com of historic markers taken during a walk through Bridgeville in August 2005.
Bridgeville, New York article in wikipedia.org, and the same article mirrored on answers.com by Tom Rue, August 2005.
Monticello, New York local history articles.